Passive sampling of volatile organic compounds (VOCs) is employed by specialists working in occupational hygiene and personal monitoring, routine ambient air monitoring and fenceline monitoring of industrial sites.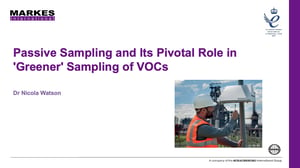 Initially, the technique was used to monitor personal VOC exposure in the workplace using activated charcoal tubes followed by solvent extraction. However, by the late 1970s, scientists from the UK Health & Safety Executive's Committee on Analytical Requirements had developed a less hazardous and 'greener' method: axial passive sampling followed by thermal desorption (TD) of sorbent tubes. TD has several benefits compared to solvent extraction and since the adoption of axial passive samplers, many other passive samplers compatible with TD have been developed.

Separation Science offers and on-demand webinar that discusses how the options available for passive sampling can be best applied to a variety of VOCs in a range of situations. The webinar also discusses the advantages and disadvantages of each option, with tips and tricks for successful measurement. The presentation is given by Dr Nicola Watson, Strategic Partnership Development Manager at Markes International, who has over 15 years' experience in environmental air sampling with a special interest in the development and application of passive sampling technologies.
By watching this presentation you will learn about:
The power of passive sampling and why it works

Challenges and how to overcome them

Application areas – established and emerging

Recent developments in passive sampling

Sampling and analysis technologies.
To find out more on passive sampling and how it can improve your environmental analysis of VOCs, click on the button below: