For laboratories that perform routine process water, drinking water and wastewater analysis, Thermo Scientific™ Gallery™ discrete analyzer systems provide increased throughput while lowering the cost per sample for environmental analysis. This brochure details how to achieve fast and accurate analysis using these analyzers.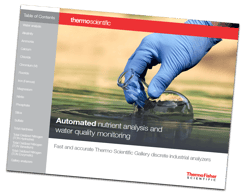 Clean water in sufficient amounts is an ongoing global challenge. Water resources are experiencing increasing pressure in many parts of the world, requiring countries to improve the management and
protection of water ecosystems. Thermo Scientific™ Gallery™ analyzers are sophisticated discrete photometric systems for the precise and easily adaptable analysis of water and environmental samples. Gallery and Gallery Plus provide repeatable results while full automation improves quality and efficiency. Bar-coded traceable system reagents save technician time and reduce errors, thus ensuring confidence in the quality of the results.
Methods and results are provided for testing for alkalinity, ammonia, calcium, chloride, chromium (VI), fluoride, iron (ferrous), magnesium, phosphate, nitrite, phosphate, silica and sulfate. Furthermore, conditions for testing for total hardness in drinking, ground and surface water are given.
Total Oxidized Nitrogen (TON)/Nitrate
A plant nutrient and inorganic fertilizer, nitrate is found in septic systems, animal feed lots, agricultural fertilizers, manure, industrial waste waters, sanitary landfills, and garbage dumps. Nitrate is determined by subtracting Nitrite result from TON result with an automated calculation. For Gallery analyzers, three system reagent kits for TON/Nitrate are available.

Benefits of automated discrete analysis
Fast – ready for immediate analysis: no reagent priming, no method changeover time

Flexible – various tests can be performed on each sample; there is no limitation to the number of tests

Precise – specific measurements with high reproducibility.