Are you looking for a LIMS solutions to support your sample workflows? Interested in increasing your return on investment and reduce risks? If so, join our webinar discussing how the pre-configured capabilities within a LIMS solution can help you achieve these goals.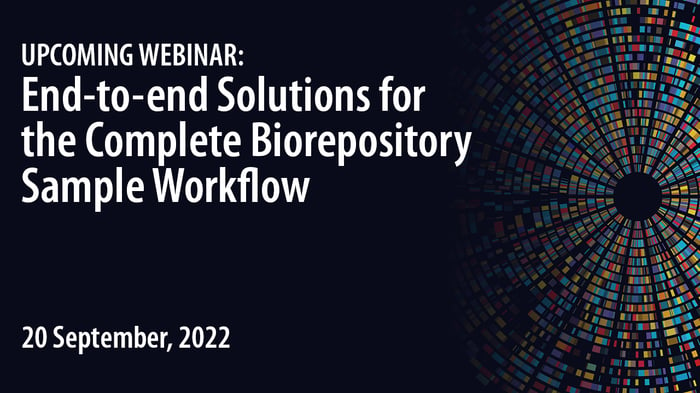 Date: 20 September, 2022
Start Times:
Broadcast #1: 10.00am BST (London) / 11.00am CEST (Paris) / 2.30pm IST (Mumbai) / 5.00pm SGT (Singapore)

Broadcast #2: 10.00am PDT (Los Angeles) / 12.00pm CDT (Chicago) / 1.00pm EDT (New York)
Duration: 1 hour
Biorepository labs need to prioritize sample quality and viability. The responsibility of gathering, storing, tracking and shipping high-quality specimens is crucial to both the integrity, efficiency and outcome of the scientific study. The need to do so in compliance with regulatory requirements, is equally as imperative.
The task of ensuring robust and reproducible sample results to meet stakeholders' expectations and industry standards, means biorepositories (and biobanks) have come to rely on the support of a long-established digital LIMS solution like Thermo Scientific™ SampleManager ™ LIMS software - so they can concentrate more on continuing to advance clinical and translational scientific research and less on worrying about data integrity or conformance.
As a pre-configured software solution providing biorepositories with industry-leading laboratory, process and data management capabilities, SampleManager LIMS software is an implementation and validation accelerator. Its out-of-the-box features and functionality, coupled with end-to-end support and workflow solutions, means return on investment is expedited and project risk is reduced.
To learn more, please join Javier Fraile, Solutions Manager and biorepository solutions expert at Thermo Fisher Scientific, as he discusses how the pre-configured capabilities of the SampleManager Biorepository solution can best support the critical biological material management in your biorepository lab.
By watching this presentation you will learn about:
End-to-end solutions available to support your biorepository sample workflow

How to increase your return on investment and reduce project risk

The value of implementing trusted software solutions into your laboratory and workflows

The capabilities and benefits of a pre-configured biorepository solution.
The Presenter

Javier Fraile
(Solutions Manager for Digital Science Solutions, Thermo Fisher Scientific)
Javier Fraile has more than 14 years of experience in the LIMS sector: he started his career off focusing on support and services before moving into the solutions side of the business in 2021. His current role focuses on building, supporting, and delivering pre-configured software solutions to support customer needs in a variety of industries in a global capacity.
Sponsor: