Discover how this direct-sampling ion source eliminates the need for chromatographic separation, simplifying workflow for routine applications.
Perform quick and cost-effective triple quadrupole mass spectrometry analysis without the hassle of complex chromatographic-based separations.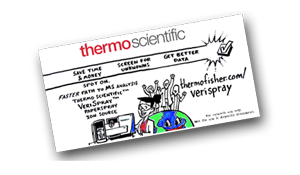 Find out how you can run up to 240 samples unattended, obtain MS results in less than two minutes per sample, and reduce your cost per test. The Thermo Scientific™ VeriSpray™ PaperSpray ion source provides an easy-to-use, high-throughput direct sampling and screening system for time-critical samples.

This paper spray ionization technique provides direct sample analysis capability with your triple quadrupole mass spectrometer, eliminating the need for chromatographic based separation, simplifying your workflow, getting to results faster, and reducing cost per test.
Watch the video on how VeriSpray ion source works by clicking below.
Join the Clinical Community Today
Clinical research, translational discovery, and diagnostic solutions to help you meet the demanding needs of your work. Get updates on technical notes, webinars, customer appreciation events, and even employment opportunities.