This application note from Agilent describes a targeted LC/TQ-based method for the determination of 763 different human lipid species using a 10 μL volume of plasma.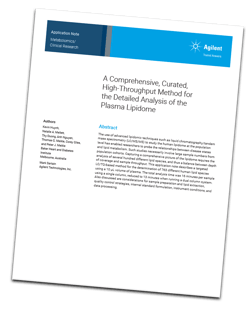 Abstract
The use of advanced lipidomic techniques such as liquid chromatography/tandem mass spectrometry (LC/MS/MS) to study the human lipidome at the population level has enabled researchers to probe the relationships between disease states and lipid metabolism. Such studies necessarily involve large sample numbers from population cohorts. Capturing a comprehensive picture of the lipidome requires the analysis of several hundred different lipid species, and thus a balance between depth of coverage and sample throughput. This application note describes a targeted LC/TQ-based method for the determination of 763 different human lipid species using a 10 μL volume of plasma. The total analysis time was 16 minutes per sample using a single column, reduced to 13 minutes when running a dual column system.

Also discussed are considerations for sample preparation and lipid extraction, quality control strategies, internal standard formulation, instrument conditions, and data processing.
Introduction
Lipids are complex biological molecules with a diverse range of properties and functions. They comprise the primary component of cellular membranes and adipose tissue, and serve as the major energy storage molecule in mammalian systems. They also play an integral role in cell-signaling pathways. Consequently, an increased understanding of lipid biology is of great interest to a broad range of scientific fields, from agriculture to medicine.

This application note details a method to determine the concentration of 763 different lipid species from 44 lipid classes within a 10 μL sample of plasma, or an equivalent amount of cell or tissue homogenate. Analysis is conducted via a tandem quadrupole mass spectrometer (MS/MS), subsequent to separation by reversed-phase liquid chromatography.
Experimental
For details on chemicals, sample preparation, instrumentation and the LC/MS/MS method please download the full application note.
Results and Discussion
This application note details a robust and highly curated LC/MS/MS-based protocol for the determination of over 750 different lipid species within a plasma sample or equivalent. The short run time, high reproducibility of the data, as well as the ability to align data across multiple batches, or even between different labs, enables large lipidomic datasets to be assembled. Such data are vital when seeking to define associations between lipid species and disease outcome to better understand disease pathogenesis.